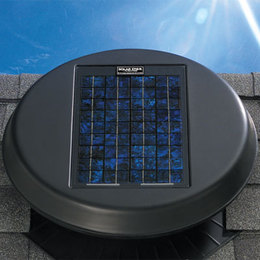 Go Green
Lighten your energy bill and environmental impact with Solar Reflections products
The majority of us have made initialefforts to preserve our planet—we recycle, reuse and renew. There is another step that is easier than you'd think. You can utilize the sun to brighten your dark home by using Solatube daylighting systems, and you can ventilate your attic with Solar Star, the solar-powered attic fan. Both of the products qualify for the 30-percent federal tax credit.

Langhorne residents Harris and Sheryl Braunstein embarked on an extensive research mission looking for ways to brighten their dark kitchen and bathroom and ventilate their attic space.

"It was intense," Sheryl says of her interviews with several solar companies. She asked many direct questions: How will they keep the integrity of my roof intact? Will the installation cause problems? What happens on cloudy days?

As a resident of an active adult community, Sheryl felt a strong responsibility to herself and her neighbors to find answers about which company offered the best product and latest technology and installation procedures, as other homeowners in her community faced the same brightening and ventilation issues as she did.

When she completed her research and decided on the products offered by Solar Reflections, Inc. based in Chalfont, Sheryl went to her community's board of directors for pre-approval and got the thumbs up.

"I was the first in my community of 300 to do this," she says of her 2007 installation. "The integrity of the roof has not been compromised at all, and the installation was fast, efficient and extremely responsible to the homeowner," she explains. Even on cloudy days, with the system producing the equivalent of a 60 watt bulb, my 85-year-old mother has taken a shower in the bathroom and not needed to turn the light on."

Solar Reflections Offers Innovative, Safe, Natural Technology
The Solatube tubular daylighting system, with its leak-proof design, captures natural light and sunlight from your rooftop and redirects it down a highly reflective tube to brighten interior areas of your home. Solatube is cost-effective, alternative lighting that will not overheat a room, fade carpets, upholstery or draperies and has a 10-year product warranty. There are different models available based upon your brightening needs.

Solatube daylighting systems, available since the early '90s, can be customized with accessories such as the light add-on kit for use at night, the ventilation add-on kit that replaces noisy exhaust fans in bathrooms and powder rooms, and a daylight dimmer.

You'll be a fan of Solar Star attic ventilation
Solar Star, the solar-powered attic fan, utilizes ambient light and sunlight from sun-up to sun-down to properly circulate air and ventilate your attic space. The unit is whisper quiet, reduces damaging condensation and heat build up, and costs you nothing to operate.

Solatube International promotes the continuous ventilation of attic spaces for best results in all climates, however for homeowners who prefer not to have the attic fan running during cooler temperatures, there is a thermal switch available. With the thermal switch installed, the attic fan will turn on when the attic temperature reaches 85 degrees and turn off when the attic temperature drops below 65 degrees.

According to the U.S. Energy Star statistics, a typical home's energy use can cause more than twice the amount of greenhouse gas emissions of the average car. However, installing the Solatube 160 Daylighting System can save approximately 19 pounds of carbon emissions annually, in addition to decreasing the amount of energy used in your home.

An average yearly home energy bill breaks down to 10 percent on lighting and 49 percent on heating and cooling. For the equivalent cost of installing one conventional skylight, three to four Solar Reflections Tubular Daylighting Devices can deliver no-cost lighting and reduce additional heating and cooling needs. Once in place, the homeowner does nothing but enjoy consistent, visually comfortable daylight with leak-free, maintenance-free benefits.

Meet Solar Reflections Owner J.J.Vargo
Jacob "J.J." Vargo is a certified installation consultant servicing Philadelphia and the surrounding counties. With more than 20 years in the construction field, J.J. became a Solatube premier dealer five years ago because he wanted a product that he "believes in with a passion about its performance." To date, Solar Reflections, Inc. has approximately 700 references, including 200 on-site homeowners willing and ready to open their homes to show potential customers the benefits of the Solatube products.

J.J. has eight Solatube daylighting systems placed throughout his home and doesn't need to turn on electrical fixtures all day long. He also has two Solar Star attic fans, which have a 5-year product warranty, installed at his residence.

"Our family business strives for 100 percent customer satisfaction," J.J. says. Solar Reflections offers free, in-home consultations to make professional recommendations regarding your home, and most homeowners take advantage of same-day installation. Solatube professionally installs in about two hours and Solar Star installs in about 45 minutes. There is a three-year installation
warranty with every install for homeowner piece of mind.

Solatube e-Choice and Solar Star products qualify for the 30-percent federal tax credit through the year of 2010. For more information about tax credits and eligibility requirements, consult a tax professional.

Whether striving for a greener home or a leaner utility bill, Sheryl Braunstein's experience
with Solar Reflections products says it best: "I feel better because my pocketbook is fuller, and this is all free lighting and ventilation from mother nature."

Admission is free at the Greater Philadelphia
Spring Home Show March 26-28, 2010.
Visit us at Booth #B-413 and see Solar Reflections'
products on display!
Solar Reflections, Inc.
41 Creek Rd., Chalfont, PA 18914
215-997-5901
SolarReflections.net
Jill Yris is a professional writer based in
Doylestown.